Upcoming Concert Dates:
Music from the Dublin Lute Books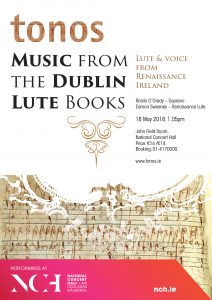 Lute & voice from Renaissance Ireland
18 May 2018, 1.05pm
John Field Room, National Concert Hall Price: €16 /€14, Booking: 01-4170000
Previous Performances:
24 September 2016 – 8pm, Nun's Cross Church, Ashford, Wicklow: €15/€12.
20 June 2016 – 8pm, Tara Church, Tara Hill, Meath: €16/€14. www.solsticeartscentre.com
5th December 2015, 8pm, 'Songs of the Season' Christmas concert.  Tramore Cultural Arts Centre, Love Lane, Tramore, Co. Waterford.  Tickets €14/12, complementary mulled wine.  Phone Coastguard at (051) 391656.
24 September 2015 – 1.15pm, Tower Theatre, Irish World Academy of Music & Dance, Limerick: free admission
4 October 2015 – 4pm, Casatalia Hall, Ballytobin, Callan, Kilkenny €15/€10. www.musicinkilkenny.com
7 October 2015 – 8pm, Kaleidoscope Night, Bello Bar, Dublin €14. www.kaleidoscopenight.com
11 October 2015 – 1pm, East Cork Early Music Festival, Sirius Arts Centre, Cobh, Tickets available from: Pro Musica 20 Oliver Plunkett St, Cork. www.eastcorkearlymusic.ie
21 October 2015 – 8pm, Mermaid Arts Centre, Bray, Wicklow. www.mermaidartscentre.ie 
18 September 2015 – 8pm, Culture Night Concert, Thomas McDonagh Centre Cloughjordan Tipperary, 7.30, free admission.
1 Dec 2011 Nollaig – An Early Music Christmas Concert. Christchurch Triskel Arts Centre, Cork.
1 Oct 2011 Tabhair dom do lámh – Music from the time of Granuaile, the Spanish Armada, and the founding of Westport House. Westport Arts Festival
13 Dec 2010 Nollaig – Christmas Music of the 16th, 17th & 18th centuries. Chapel Royal, Dublin Castle.
2 Oct 2010 The Flight of the Earls; Sligo Festival of Baroque Music: Model Arts Centre, Sligo.
5 Aug 2010 Music of the Wild Geese' Northside Music Festival: St Canice's Church, Church St. Finglas South,Dublin 11.
20 Jul 2010 Music of the Wild Geese' Feile Iorrais: Geesala Church, Belmullet, Mayo.
18 Jul 2010 Music amongst the Mosaic; Church of the Ascension, Timoleague, Co Cork.
16 Apr 2010 Songs of Love from the 17thCentury; St John's Church, Limerick.
10 Oct 2009 Music of Love, Longing and Lust, Calary Church, Roundwood, Wicklow.
24 Apr 2009 Music of the Wild Geese 1.05pm, John Field Room, National Concert Hall, Dublin.
26 Feb 2009 Royal Society for the Arts, London.
12 Feb 2009 School of Music and the Sonic Arts, Queen's University, Belfast.
27 Sep 2008 Dublin Philharmonic Society, Dublin.
4 Jul 2008 International Guitar Festival of Ireland, National Gallery of Ireland, Dublin.
26 Apr 2008 Mermaid Arts Centre, Bray, Wicklow.
22 Feb 2008 John Field Room, National Concert Hall, Dublin.